Sometimes, a stroll around the streets of Bangkok can be so revitalizing.  Soaking in the sights and sounds from a different perspective provides an opportunity to get lost in what is going on right in front of you.  To add to the excitement, the glorious amounts of street food this city has to offer along the journey add flavorful smells into the air. 
Depending on where you live and the types of food you are interested in eating would vary the options available, but sometimes traveling to get some tasty food is part of the adventure.  When it comes to Indian street food, there is no better place to go for all the sights, sounds, and smells than the streets of Phahurat, otherwise known as Bangkok's Little India.  Here you can find a huge variety of fabrics, spices, and many other items shopping will keep you busy for hours.  We cannot forget to mention the amount of food available every step of the way.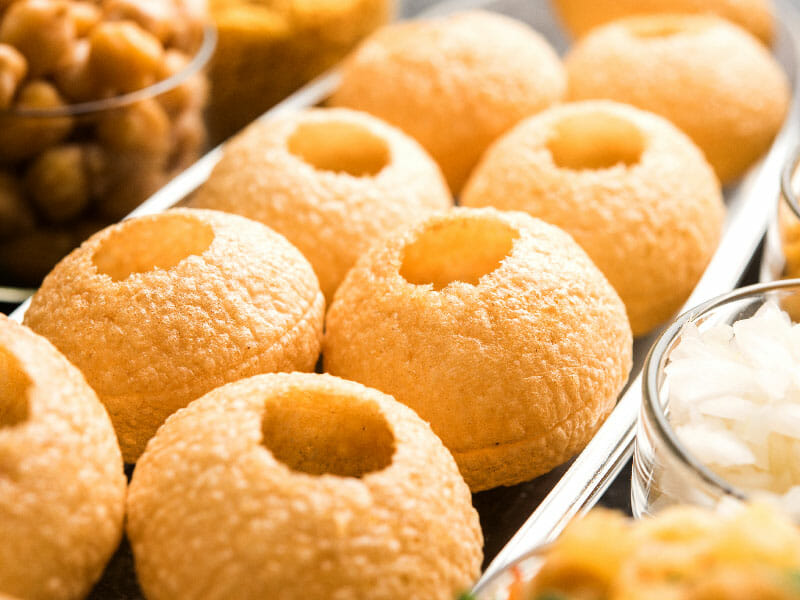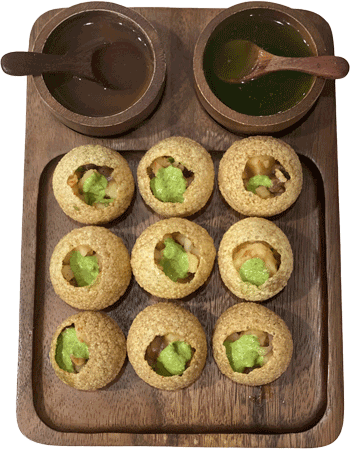 Whether you are searching for Aloo Tikki, Bhature, Chaat, or Pani Puri, the streets have you covered. So here lies the riddle that everyone always asks, 'where can I find the best street food?'
Well, it goes without saying that we offer some of the best authentic Indian cuisines in Bangkok and have been for over 20 years. Plus, you don't have to take our word for it, check out our reviews on Facebook and Google Reviews, and let our guests share with you.
As per our guest reviews, we have decided to make things easier for you and tell you where to find the best Pani Puri in Little India, Bangkok. It is located at Mama Restaurant in Phahurat.
Over the years our guest's responses to this quick and easy snack have shown us that not only do people enjoy our Pani Puri, but they keep coming back for more. Our regular customers will always order them while they wait for their meals and kids absolutely love them.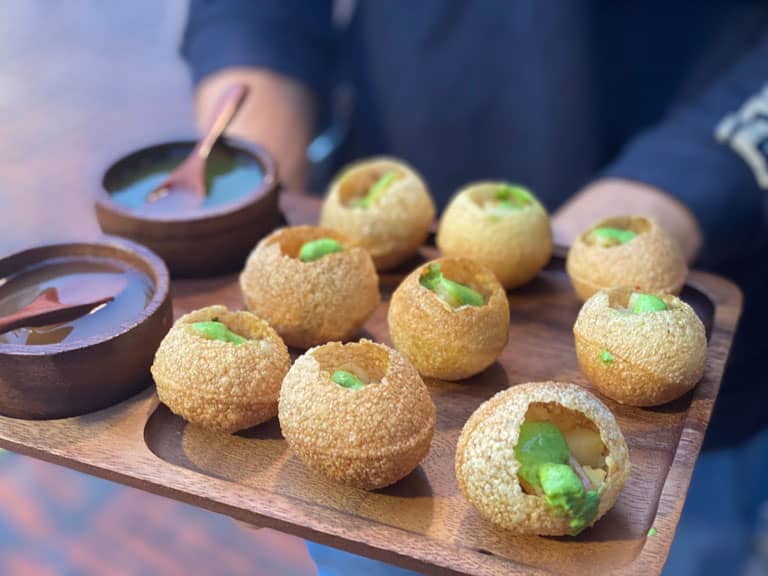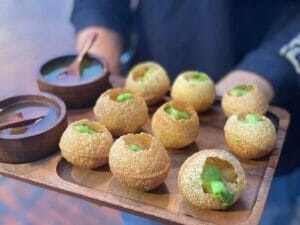 But, where did this little and round, finger-licking, lip-smacking happiness-making snack come from?
There are a couple of interesting stories about the history of this crispy hallowed ball of wheat or semolina. It is as fascinating as the variety of styles this delicious street food has across India and worldwide. Pani Puri is a flavorful snack that people from all walks of life enjoy.
This crispy ball of dough, filled with potato and sauce that can be spicy or sweet, may have started its journey to stardom before 600 B.C. in ancient India in the Kingdom of Magadha. Just as in the many regions of India, there are many different names, Gol Gappe, Gup Chup, Pani ka Bataasha or Patasha, Phulki, Phuchka, Pakodi. Over the centuries, this culinary delight has left a legacy of variations to what is served today.
There is a different legend from Mahabharata that is quite common. A mother named Kunti, her five sons, and her daughter-in-law were exiled from their kingdom to a lost game of dice. The reasons are unclear, but Kunti gave her daughter-in-law, Draupadi, a challenge as a test. She was given some leftover potato sabzi, a little dough, and a little water. Draupadi was instructed to cook something that would satisfy all of the brothers. Some think that this test was to see if she would be a good housewife and others believed it revealed which brother she favored. It could have been as simple as checking to see if Draupadi could satisfy all five brothers' hunger.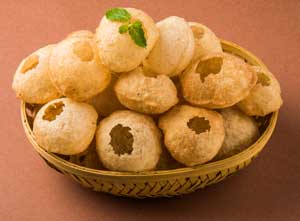 It is said that this is when Draupadi invented Pani Puri and impressed everyone. Kunti expressed how impressed she was by blessing the dish with immortality.
With a variety of legends and flavors available across the globe, Pani Puri has found a home in people's hearts and tastebuds for all time.
So join us here at Mama Restaurant during your next trip to Phahurat, or stop by for a quick shopping break. We know from our customers' feedback that you will not be disappointed. Visit us and taste the best Pani Puri in Bangkok. Have it with your meal, or take it on the go, we know you will be back for more!